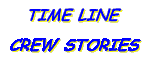 ---
CONTACT US FOR:
=
Reunion Information
=
Addition To Mail List
=
Add Information to
THIS SITE
---

USS BENNINGTON

---
WEB SITE AWARDS
---
The Military.com editors have selected this site as one of the best military sites on the Web





Military.com recognizes your website as a valued resource for the military community. We salute you and your efforts.

Military World is pleased to announce your site has been reviewed and you have won our Certified Site Award.





The sites are judged on content, functionality, graphics and usefulness to the general public.
This Site was voted by the Regents of The American War Library as a BEST VETERAN/MILITARY WORLDWIDE WEBSITE

The Four Star Award is the highest honor bestowed by The Regents of The American War Library

THE GOLDEN ANCHOR AWARD


The Golden Anchor is NavyThriller.Com's salute to websites that support the U.S. military, as well as non-military sites with strong patriotic themes.
Congratulations!
We have reviewed your site, and you have been selected to receive the Golden Anchor Website Award for Patriotic Excellence.


"The American Legion
Post 694
Americanism Award"


This award is reserved for sites that emphasize the Americam way and its many wonderful faces. MIA/POWs, Veteran Issues, US government, Military, Amercian Wars, Law Enforcement, Children and Youth, etc.; all of which are American Legion programs and embrace the theme of "for God and Country".

SAMC
Legion of the Eagle


We at the Sergeant Audie Murphy Club Association have granted to your USS Bennington website the "SAMC Legion of the Eagle" website award for providing outstanding patriotic service.
SOS
"Spirits of Ships"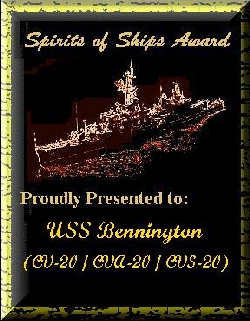 The Spirits of Ships award is given to sites honoring the memory of decommissioned US Navy war ships.
These sites keep the spirits of our bygone ladies alive so the world can know how much they have meant to us and that they live on in our memories.
Receiving this award indicates your dedication to a most important part of our country, Naval history and the preservation of freedom.
American Pride Award


This award is given only to site's that show patriotism and/or American pride.

Highest Award for
Military Patriotic Pride


I'll hope you accept this, My Highest Award for Miliyary patriotic pride; with the same pride I pesent it to you and the Crew of Bennington.

Beloz Family POW MIA Award


To Be Granted The Beloz Family POW MIA Award Your Web site must be Military, Veteran and MIA related

THE GOLDEN GRIFFIN AWARD


The Golden Griffin Award is to recognize websites of excellence that promote national patriotism and honor our nation's military and veterans.


Jake's Yankee Station Honors Award for Excellence



The Texas Navy website
"Tall Ship Award"



This award is presented to websites which provide historical information about the State of Texas and/or Nautical history.

HISTORY TELEVISION AWARD


This site has been reviewed by History Television staff and has now been added to the Archive in the Wars & Conflicts section.

PATRIOTIC AWARD OF HONOR




It was a pleasure finding your site on the web!
I would be honored to give you my patriotic award of honor

SPIRIT OF AMERICA AWARD




Awarded for the very fine work you're doing on your site!
You're site is great!


Military Honor Plaque
Site Award

Awarded to this web site for
Outstanding Patriotic Presentation
On behalf of a proud Navy Mom



This Award is given to Web sites whose owners I feel, show true "Patriotism".



The Yeoman at "Jake's 'Yankee Station' – USS Hancock CV/CVA-19 Memorial" takes great pride in awarding the U.S.S. BENNINGTON with our prestigious "Outstanding Patriotism and Citizenship Award for Exemplary Service to God and Country'. Your Site is helping those who lived the Adventure and those who did not to remember how important Patriotism and Good Citizenship is to keeping this Nation safe and Number One among the Nations.

We see today a New Enemy on our Borders and threatening our way of life. Because of Websites like yours, Americanism is Alive and Well, and this is a Must for the current and succeeding generations, if we are to continue success as One Nation Under God, with Liberty and Justice for all. Good going and 'Hand Salute!

Jake, USS Hancock Memorial,
http://www.usshancockcv19.com
Thanks to the TEAM

It takes a team to make a success, and MANY members of the CREW (and their family and friends) are part of the team that helped to create this web site.
---
Site Created By: