From: "Charles Engen" ( CharlesEngen@msn.com )
Date: Wed, 9 Oct 2002 00:18:40 -0400


I knew that the Bennington was the first US ship... The attached photo is a copy of a now declassified document my Dad wrote. He was an exchange test pilot at England's Empire Test Pilot School in 1953 and was one of the two first American's to test the mirror on HMS Illustrious in Sea Vampires.
Sadly, the other man was killed before he completed his duty in England in 1953.

CLICK THE PICTURE FOR A CLOSE UP
CLOSE THE CLOSE UP WINDOW TO RETURN HERE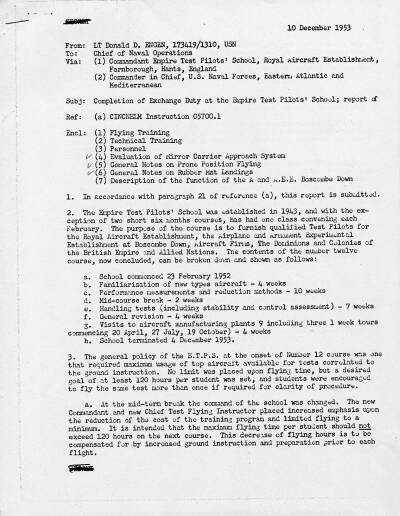 By the way, the British Naval Officer (Royal Navy Cdr Nick Goodhart) that developed the idea for the mirror tested it out using his secretary's lip stick and make-up mirror with some horizontal books as the 'flight deck'. He moved about the room and always came in with the red of the lip-stick reflecting in the mirror and put his chin exactly in the same spot no matter how he approached.





Added note:
Donald D. Engen was a Commander in VF21 on the Bennington around 1955-56, and went on to become a Vice Admiral, FAA Administrator, and Director of the Smithsonian's National Air & Space Museum.