USS BENNINGTON

---
CREW'S STORIES
---
RETURN TO: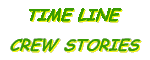 Ens. Tony Ward-Smith
Aug 1962...to Nov 1963
---


Subject:
Stuff for site...
From:
Tony Ward-Smith - wardsmith@seanet.com
Date:
Tue, 04 Sep 2007 14:19:53 -0700
To:
info@uss-bennington.org

Just found the Bennington website.
Good job! It's great!
Thought you might like to have some additional stuff.

Couple of things to send this time.
I was PIO on board from Aug 1962...to Nov 1963.
During that time we ran up (from home port San Diego) to Bremerton and spent six months for major overhaul (anti-sub sonar and etc.).

Then some training cruises out of San Diego...then shifted home ports to Long Beach. I was sent to Long Beach (TAD) on a Monday morning while the ship was at sea for a week...was told to "arrange some festivities" for our new home port homecoming the following Friday. Base band was on hand, fire boats in the harbor, Mayor and VIPs were dockside and newspaper and tv caught it all. Front page headlines. Lots of fun.

Then, in August 1963, we sailed to Seattle (20 Navy ships in company!) for the annual Seafair Week festivities (see photo).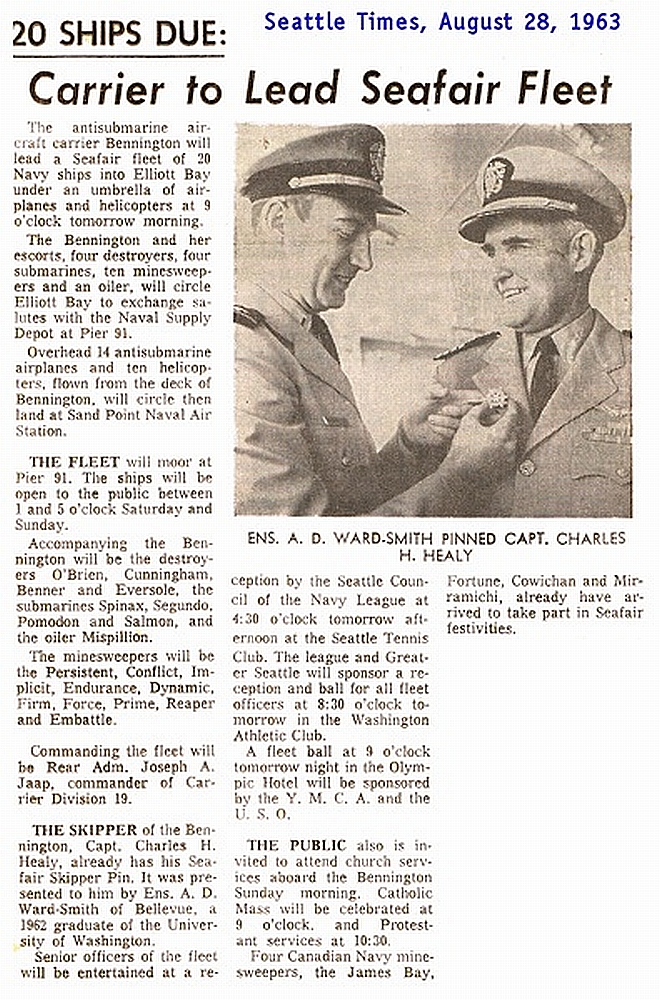 Newspaper clip of me and Captain Healy


And here is a copy of a brochure printed on board for the open house visitors (note typewriter...very high tech!).
It is in a PDF format. It is a rather large file and opens in a new window.
Click this link to view it: WELCOME ON BOARD August 1963

Seafair Queens and Princesses on board...a one-hour TV show filmed on the flight deck with Ernest Borgnine and Tim Conway and troupe (McKales' Navy)...great liberty!...

As the PIO of Big Benn at the time of all this flamboyant goings-on, I was running in circles. The Seattle visit was really big-time PR! We had a great team of photogs on board, and they were getting great pix. But I don't have pictures of the TV show. A stage was put up on the forward part of the flight deck, and the crowd (including civilian visitors) stood/sat in front. It was, with Conway going strong, a very funny program, as I recall.
The only pictures I personally kept, of course, were of the pretty girls! (I did get a date the next night with the Seafair Queen...and her Mother Superior chaperone!)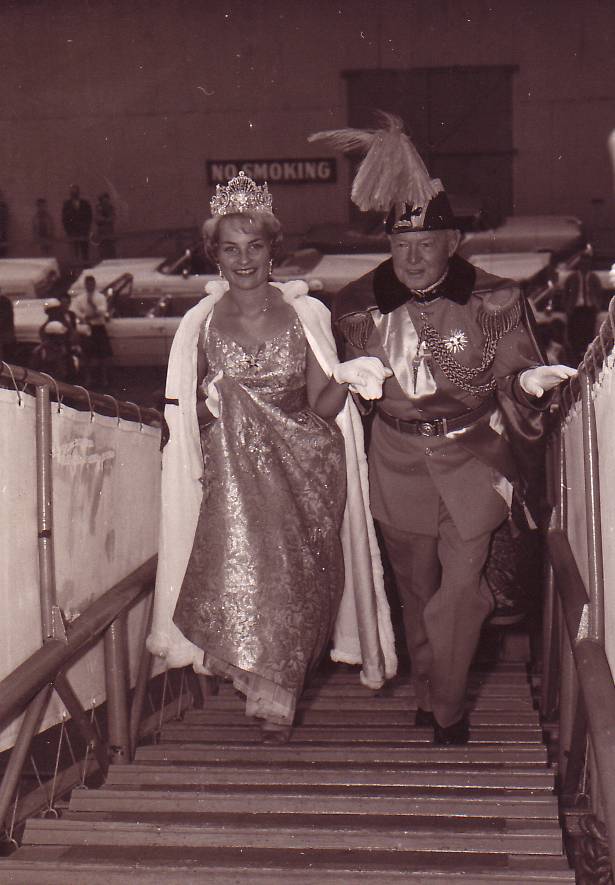 You'll smile at this— yesterday, when I got these pictures out, I knew all the names. Today, I can't, for the life of me, think of the queen's name. She's the beauty coming up the gangway on the arm of Seafair's "King Neptune" for the official welcoming ceremonies.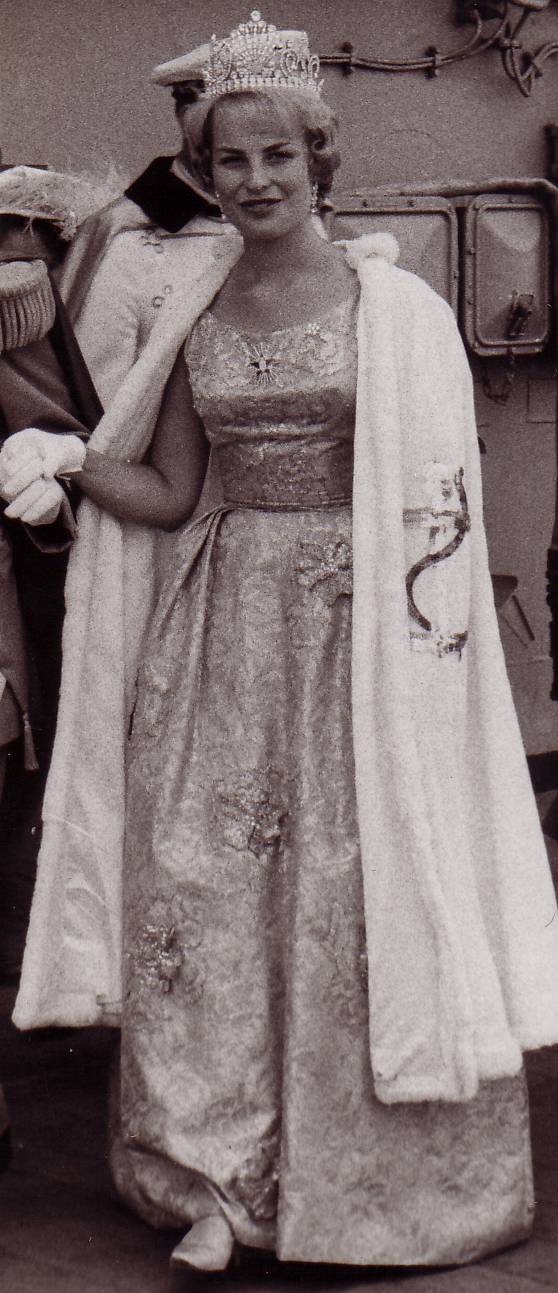 Ok...ok...Seafair Queen was Arlene Hinderlie. (How could I forget...!)


The other beauty is Gail Reid, the prior year's (1962) Queen and another of the official contingent, with me on one side and Commander Reynolds (Ops Officer, I think, or ship's Navigator...darn, I don't remember all this stuff!).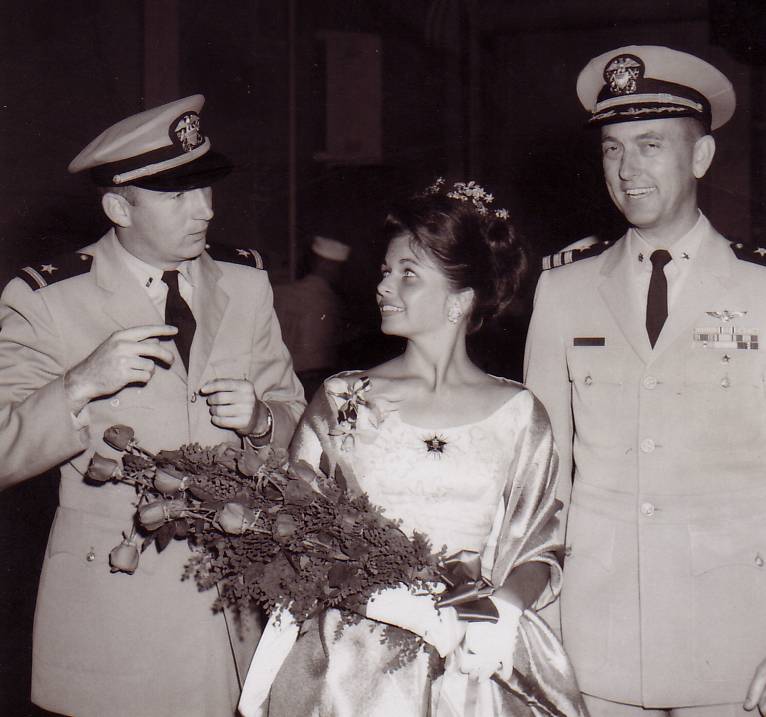 Then underway for a week of training in Gulf of Alaska, before arriving in Auke Bay, Juneau, Alaska. The Juneau experience was totally amazing for everyone involved. A ship with 3,000 people hit town (population 5,000!) and the locals went all out. Benn was anchored in the middle of Auke bay about seven miles up the road, I think (that was as close as she could get to downtown Juneau), and people came up in little boats and hollered up to the OOD that they could take one, two, three, four, etc. sailors. They took them— fishing, to town, home for dinner, tours of the area, etc...then brought them back to the ship. It was all truly amazing! All kinds of adventures there! Then another week of training in Gulf of Alaska before arriving at Kodiak. This was all just after Alaska had become an official state of the union, and this was the Navy's first big showing in that part of the world.


Another photo, from October 1963, was a flight-deck cake cutting ceremony for the 10,000 helo landing and the 75,000 carrier landing! Both pilots were on hand (somewhere), and the crew got cake!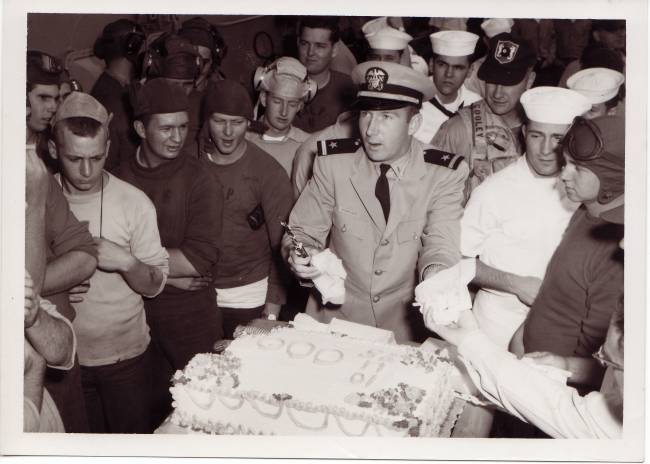 And another photo shows Benn coming into Seattle's Pier 91 (at that time a U.S. Naval Supply Center for the 13th Naval District)... early in the morning (fog— what fog?).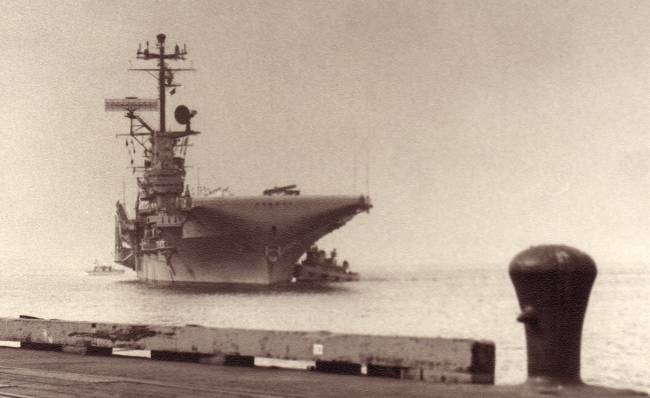 Tony Ward-Smith
Seattle, WA




RETURN TO: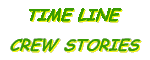 ---
Site Created By: