USS BENNINGTON

---
CREW'S STORIES
---
RETURN TO: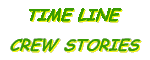 TWO DATELINE CROSSINGS
---


From Jim Brusa CVA 20:

The Bennington crossed the International Date Line on
17 September 1955 at 0 degrees. 00 minutes latitude and 37 degrees West and on
11 November 1955 at 24 degree 55.4 minutes latitude 180 dregree 00 minutes East.

The first occurance was when we sailed around the horn on our way to Westpac.

On the second occurance the ship stopped at that last location so the the bow and the stern were two different seasons, and the port and starboard sides were two different days.

All this enabled the crew to be Golden Shellbacks, issued on 11 May 1957.



RETURN TO: