Veterans' honor roll restored in Lakeville
By ERIC MOSKOWITZ, Standard-Times staff writer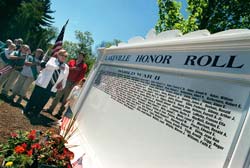 LAKEVILLE -- A slice of post-Sept. 11 Americana was served in Lakeville yesterday, a living conflation of Norman Rockwell canvas and Staff Sgt. Barry Sadler soundtrack, as a crowd of more than 150 gathered outside Town Hall for a "Salute to Those Who Serve."


Temperatures settled comfortably into the 60s and the sky was all but cloudless as Girl Scouts earning their "hometown history" badge carried the colors; small children waved tiny flags and tugged at pantlegs; and a town quartet performed a medley of star-spangled tunes.


But the highlight came at the rededication of the Lakeville Honor Roll, a wooden memorial first erected outside Town Hall just after World War II. That sign had fallen into disrepair by the 1970s, the names worn away and the corkboard centerpiece rotting. It lay abandoned in a maintenance shed, all but forgotten until last October.


At that time, the town's Historical Tour Committee was working on ideas for events leading up to Lakeville's sesquicentennial, in 2003. Wanting to create a day honoring town veterans, they seized the opportunity to refurbish the sign, Historical Tour Committee member Kathleen Barrack said.


The ceremony culminated with the unveiling of the restored sign, made possible by a number of town organizations and funded by a contribution from Jose Sardinha, proprietor of the local Dunkin' Donuts. The paper wrapping was removed as town veterans came forward, the crowd behind them clapping, saluting and snapping photos aplenty.


The veterans cut across decades, members of the Greatest Generation saluting alongside dewy-eyed Boomers, among them a group of leather-clad bikers, patches reading: "POW-MIA," "1st Marine: 1966-1971, Vietnam," even "Jane Fonda: Communist at heart; traitor by choice."


The honor roll bears its slate of World War II names, but plans are in the works to add veterans from other wars.


"Lakeville residents have served in every war in American history, from King Philip's War to Desert Storm, and now the war on terrorism," Selectman Gerald R. White said in his dedication. A U.S. Army Airborne Ranger from 1958-64, he serves as the town's director of veterans services.


Nearby, 77-year-old Joe O'Brien stood at attention. Outfitted with a number of medallions and wearing an American Legion bolo tie, he'd driven to the ceremony in a sparklingly restored 1928 Model A Ford. His name wasn't on the list because he moved to Lakeville in 1954, a decade after the war, but he showed nothing but pride.


"I am proud, proud that I'm alive," he said, showing a bit of scrap metal on his key chain. It blew off a kamikaze fighter he helped bring down as pointer for a 40-millimeter gun aboard the USS Bennington. "Because a lot of my friends, they died not only in World War II, they died of disease afterwards. So I'm very thankful I can be a part of the patriotic process."


The ceremony began with songs from the service branches -- "You're in the Army Now," for example -- with the respective veterans rising for each. And a handful of residents spoke, including high school senior Lindsey Liberatore, reading her "What Price Freedom" essay which won the Veterans of Foreign Wars national Voice of Democracy contest.


Later, just before trumpeter Robert Hill blew taps, Mr. White closed his dedication: "One thing I have to say, from one veteran to another, is welcome home."


He was speaking literally, facing his fellow servicemen. And figuratively, too. From town green to dustbin and back, the Lakeville Honor Roll is home again.


This story appeared on Page A1 of The Standard-Times on May 20, 2002.