USS BENNINGTON

---
5 JUNE 1945 - TYPHOON DAMAGE
---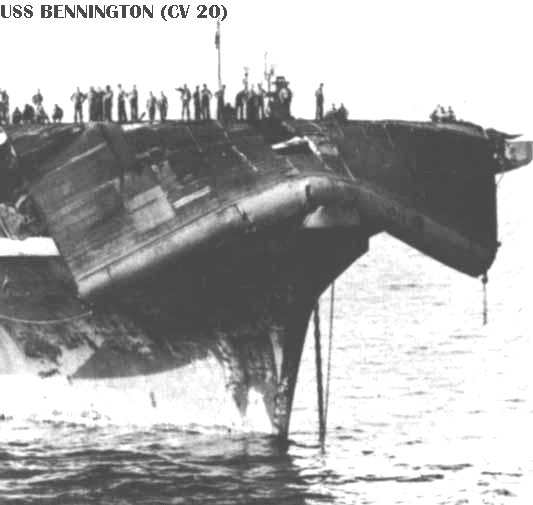 On 5 June 1945 the carrier was damaged by a typhoon off Okinawa and retired to Leyte for repairs, arriving 12 June.



Here is an eyewitness account from Don Fitzgerald, in Chico, Ca.

Hi,
You guys bragging about water over the bow, look what the typhoon did to CV-20 in 45, can you top that??
Hope no one ever has to.
That was some experience when it tossed the ship around like a match box.
I was on the Main throttle of #1 main engine that morning it struck, a lot of people don't realize we were running our
starboard engines full astern and our port engines full ahead just to keep the island into the wind to keep from capsizing.
The stress and strain in the engine and the vibrations was like standing on a vibrating machine.

Don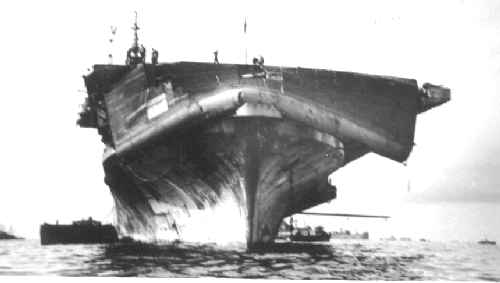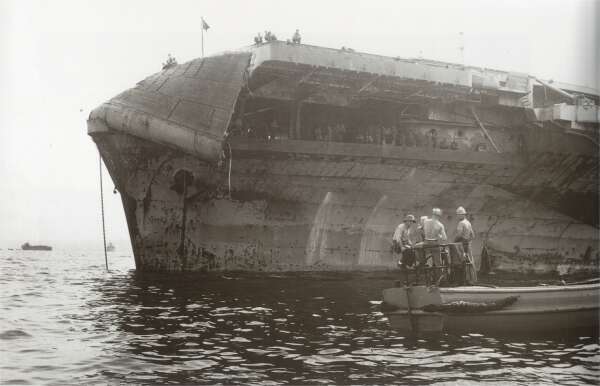 THE FOLLOWING INFORMATION IS PROVIDED
DIRECTLY FROM THE HISTORY/CHRONOLOGY
FOR PERIOD 6 AUGUST 1944 thru 15 SEPTEMBER 1945.

5 June 1945

Underway in an area approximately 300 miles southeast of Okinawa seeking to avoid course of
storm known to be approaching from the south. Ship in Typhoon Condition Two.

Set Condition Zebra and Typhoon Condition One at 0423 hours.

Wind increased in velocity to 60 knots at 0507 hours.

At about 0528 - the forward 25' of flight deck collapsed due to heavy pounding of the seas.

BENNINGTON passed through the center of the storm at 0700-0730 hours.

Storm damage other than the buckled flight-deck included the bulkhead at
Frame 4 (buckled), the starboard catwalk at flight deck level was carried out to sea, a portion of the
fire main at frame 15 was buckled and all the lifelines on the starboard side of the forecastle were
swept out to sea.


Her repairs completed, Bennington left Leyte 1 July 1945 and
during 10 July - 15 August took part in the final raids on the Japanese home islands.


---
RETURN TO: