RETURN TO: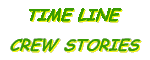 USS BENNINGTON

---
PHOTO GALLERY
---
BENNINGTON Shares in Sinking of
Japan's Super Battleship YAMATO
---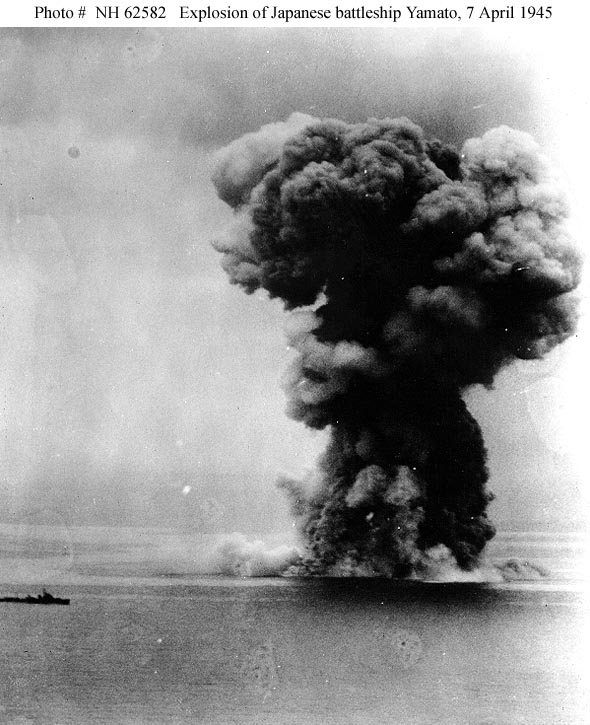 BENNINGTON Shares in Sinking of Japan's Super Battleship YAMATO

(From: http://www.history.navy.mil/photos/images/h62000/h62582.jpg)

Sent By:
Joe Pires


---
From: Nelson Futch
To: Joseph L. Pires ; Bill Copeland ; Lonnie Whittaker
Sent: Friday, May 21, 2004 11:25 AM
Subject: VB 82 & Yamato

Quite a trip down memory lane!

My log details a very active day on April 6, "with Task Group 58.1 engaging in a Turkey Shoot, chalking up 149 planes,
with planes and gunfire from the Hornet accounting for 46, the Belleau Wood 42, the Bennington 31, the San Jacinto 21
and other ships' fire 8. ...
The day ended with information from the Captain that an all-out 'Banzai' drive by the Japanese Navy and air forces was
believed imminent -- and said that tomorrow may be a repeat performance of today!"

April 7: ... "The Helldivers (VB82) were loaded-up with two 1000# A.Ps and the Avengers with torpedoes for a hop against
part of the Jap fleet -- which had been sighted off the west coast of Kyushu. Around Noon, before the return of our planes,
two Frances (medium Jap bombers) were knocked down by A.A. fire after they had dropped their bombs at a safe distance. ...
Large flak holes were evident in many of our bombers and torps that hit the deck ... One VB plane and crew were missing in action ...
'Circus' (Bennington's code name) made the first run on the 'wagon, which had been firing at the oncoming planes from a distance
of 8 miles, with Lt. Com. Wood, VB Skipper, getting the first hit on the huge battleship.
More hits followed and the Torpedo planes were already making their run before A.A. which had been directed at the dive bombers
had a chance to concentrate on them. ... It is reported that the Hornet lost 8 bombers and 5 torps to anti-aircraft fire when they
followed the Bennington's group in (reportedly from the destroyers in the Yamato battle group)."

It was perhaps the only mission during the tour of duty in which we loaded Armor Piercing bombs.
And there were very few occasions when the TBMs carried "fish" -- mostly operating as bombers.


Great stuff ...

Nelson Futch



Nelson H. Futch Collection
Biographical Information

Name:
Nelson H. Futch
State of Birth:
PA
Home State:
FL

Gender:
Male
Race:
Unspecified
War or Conflict:
World War, 1939-1945
Status:
Veteran
Dates of Service:
1943-1946
Branch of Service:
Navy
Unit of Service:
USS Bennington (CV 20)
Location of Service:
United States; Western Pacific
Highest Rank:
Aviation Ordnanceman Second Class
Prisoner of War:
Unknown

Collection Information

Type of Resource:
Computer File: CD [1 item]
Manuscript: Clippings [16 items]
Manuscript: Diaries and journals [1 item]
Photograph: Digital Print [4 items] --Photographs
Interviewer:
Peter Bartis
Contributor Affiliation/Organization:
Library of Congress
Collection #:
AFC/2001/001/241
Subjects:
Futch, Nelson H.
World War, 1939-1945--Personal Narratives
United States. Navy.
Cite as:
Nelson H. Futch Collection
(AFC/2001/001/241), Veterans History Project, American Folklife Center, Library of Congress




---
CLICK FOR PDF IN NEW WINDOW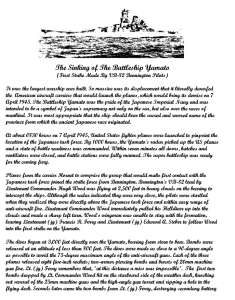 The Sinking Of The Battleship Yamato
---
Sent in by John S. Haack - [JHAACK1@Fairview.org]

The following 11 VB82 (*)pilots and (*)aircrew took off from the decks of CV 20 Bennington, about 1030 on 7 April 1945.
They led the Yamato (and screening destroyers) attack ("Battle of the East China Sea"), at about 1240, two hours later.
Over 300 additional aircraft from a handful of other Essex Class carriers attached to Task Group 58.1, followed.
Sources vary but it appears at least 5 bombs and 15 torpoedos sunk Yamato.
VB82 is credited with scoring the first two bomb hits, which destroyed Yamato's radar room and started a fire that never was put out. Two hours later, Yamato was sunk.
Over half her screening destroyers were sunk or had to be skuttled.
All of Bennington's participating navy pilots flew SB2C Helldivers and received Navy Crosses.
Her lone Marine pilot who got airborne that day, flew a Corsair (combination fighter/ bomber - with bomb), and also received a Navy Cross.
The following information is from two seperately dated lists of VB82 structure, one dated 31 March 1945 and the other dated (5 May 1945).
John Haack, navy hist. -neph. of Ens. Jack Carl Fuller

Two major questions:
1) Who flew as aircrew with the pilots (listed below) on the Yamato strike? (*) in place for those KNOWN to have flown that mission.
2) Who was the eleventh pilot? Was it another navy pilot with an unlisted Navy Cross, for this action, OR was it Marine pilot Huntington?


| | | | |
| --- | --- | --- | --- |
| Pilot | Aircrew - 31 March 1945 | (Aircrew - 5 May 1945) | Plane # |
Section 1:
| | | | |
| --- | --- | --- | --- |
| 1) *Wood, H., Jr., Lt. Comdr. | *Reed, H. H., ACRM (AQA)(T) | *(same) | (Plane 81) |
| 2) *Ferry, F. "R", Lt. (jg) | Johnson, F. R., AOM2c(T) | (Warner, F. C., ARM3c) | (Plane 83) |
| 3) *Corey, R. L., Lt. (jg) | Mylnek, J. S., AMM3c | (Rush, E. L., ARM2c(T) | (Plane 82) |
| 4) *Sieber, E. A., Lt. (jg) | Rush, E. L.. ARM2c(T) | (Santaferra, A.(n), ARM3c) | (Plane 84) |
Section 2
| | | | |
| --- | --- | --- | --- |
| 5) *Derby, J. A., Lt. | *Bell, R. J., ARM1c(T) | *(same) | (Plane 89) |
| 6) *Schumacher, R. E., Lt. (jg) | Wade, R. D., Jr. ARM1c(T) | (Sorbach or Zorbach, A. J., ARM2c(T) | (Plane 92) |
| 7) *Kuhn, W. R., Lt (jg) | Davis, G. M., ARM2c(T) | *(MacAlpine, J. G., Jr., ARM2c(T) | (Plane 90) |
| 8) *DeLancy, W. J., Lt. (jg) | *MacAlpine, J. G., Jr., ARM2c(T) | (DeLancy not on this list) | (none listed) |
Section 3
9) *Cahill, R. B., Lt. (jg)
Keegan, J. C., ARM2c (T)
(Hector, J. T., ARM3c)

(Plane 91)
10) *Fuller, J. C., Ensign
*Williams, C. "T", Jr., ARM3c

(Fuller/ Williams "MIA" - [replacement pilot] killed in Yamato Action)
-
11) *Munson, Melvin J. LT(jg)
*Stewart, D. J., ARM2c
*(same)
(Plane 88)
Verified and provided by Ray Greene ARM3c of VB-82
---
MORE VIEWS: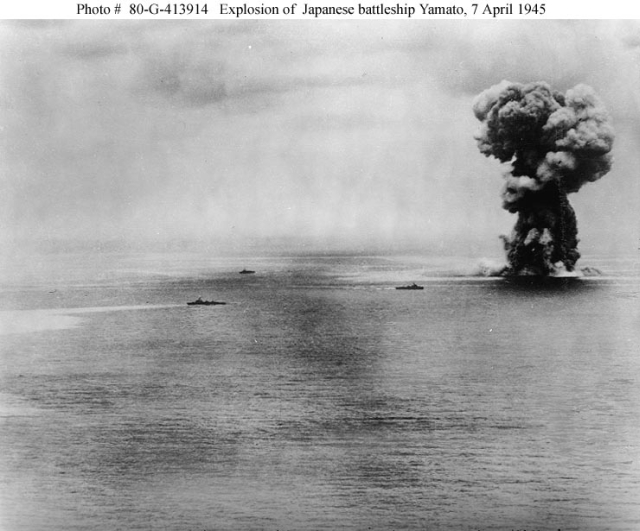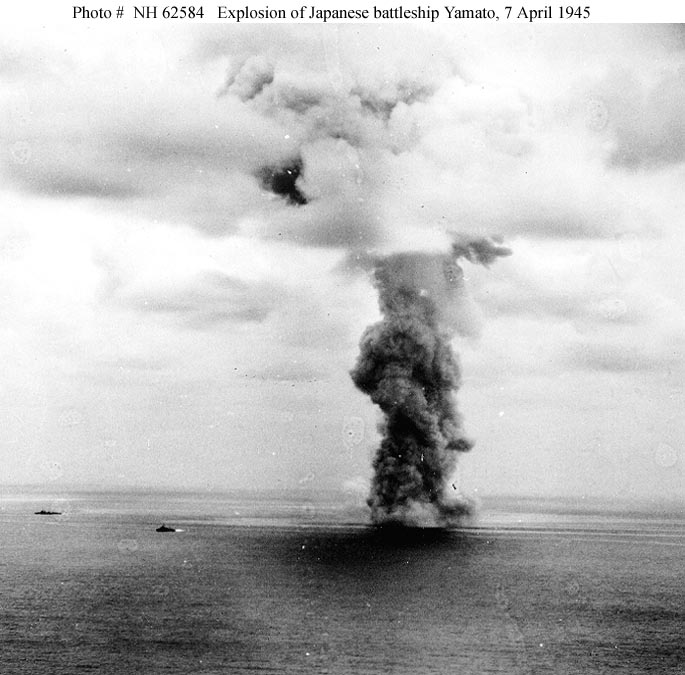 RETURN TO: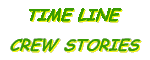 RETURN TO:



INTRODUCTION