USS BENNINGTON

---
PHOTO GALLERY
---
LAST DAYS of USS BENNINGTON
---
Here we go, SOME of the last pictures ever taken of the Bennington #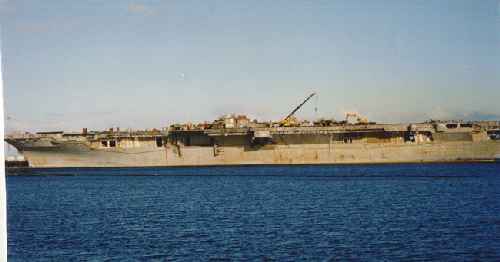 Picture #1:
This picture was taken as her island was being dismantled and bulldozed directly into the hangar bay thru a hole blown into the flight deck by dynamite, .



In late November, 1994, final preparations were being made for Bennington's Final Voyage across the Pacific.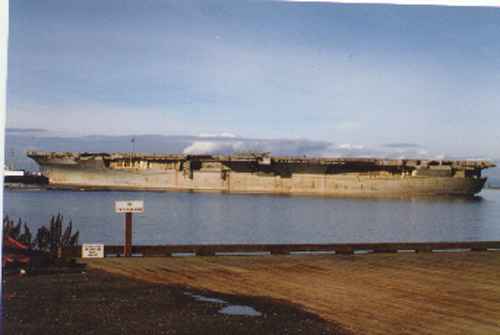 Picture #2:
December 7, 1994, with the island completely gone, and the hole in the flight deck sealed up, all was ready for the 3 month voyage across the Pacific, to Alang, India.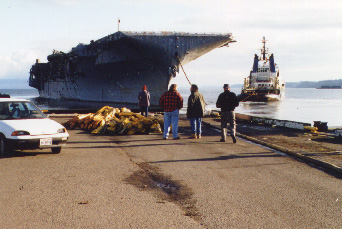 Picture #3:
The ship was getting underway and being towed by the 5th largest ocean going tug in the world, the Smit Singapore, whitch had a 27,000HP engine.
She is now ready for a 2 month Pacific crossing to India, which had been delayed, and was left standing by for 3 weeks, (at a rate of $27,000 a day) while final paperwork was being processed.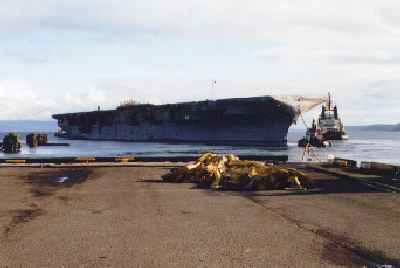 Picture #4:


From Bruce Bell, CV-20:

Bill Copeland,
I was under the impression the "Benny" was dismantled in India. You didn't go there and take pictures, I don't imagine, so my info is obviously wrong.

Bruce


Actually, it was "demilitarized" in Port Angeles, Washington. (damaged enough so she could never be used as a military vessel. Yet still seaworthy enough to be towed across the Pacific, on a 3 month journey starting in March 1994. I have many pictures of Bennington being "demilitarized" Basically, a hole was blown in her flight deck and the island structure was torn down and thrown into the hangar bay.)

I was not there when Bennington arrived in Alang, India, but a Television crew from Port Angeles, Washington was, and they did a series "Passage to India" about the arrival of Bennington, and interviewed the new Indian owners and gave a tour of the steel mill where she was being cut up for construction material.

Bill Copeland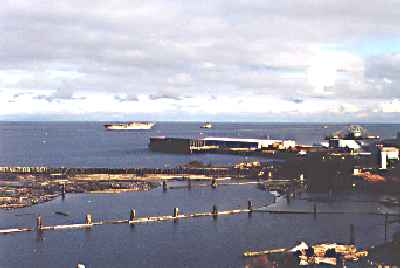 Picture #5:


The trip was originally planned for 2 1/2 months, but 2 days out, a commercial containership, the Hyundai Seattle, suffered an engine room fire off the coast of Alaska, the ship was abandoned, and the crew rescued by the Coast Guard. The owners of the tug, seeing a "quick chance to pick up some money" cut Bennington adrift, and went full speed ahead to the containership, took it under tow, brought it back to Seattle and filed the papers for salvage rights. Then proceeded back to Benn, which had been temporarily stabilized by 2 tugs of the Crowley fleet, out of San Francisco. Smit Singapore, then completed the voyage across the Pacific, arriving in India in early March, 1995.



# The above pictures are from the video:
"Passage To India.....Final Voyage of the USS Bennington"
and the commentary from Tom Hawksworth, "The last Master At Arms"

(Actually Tom was a shipyard security guard on the Bennington during the whole process.)

See the SHIP'S STORE Page for availability of this video


Here is some information you may want to see:
(This opens in a new window, close that window to return here)

SEE THE STORIES - SHIPBREAKERS
HOW THE BENNINGTON WAS DISMANTLED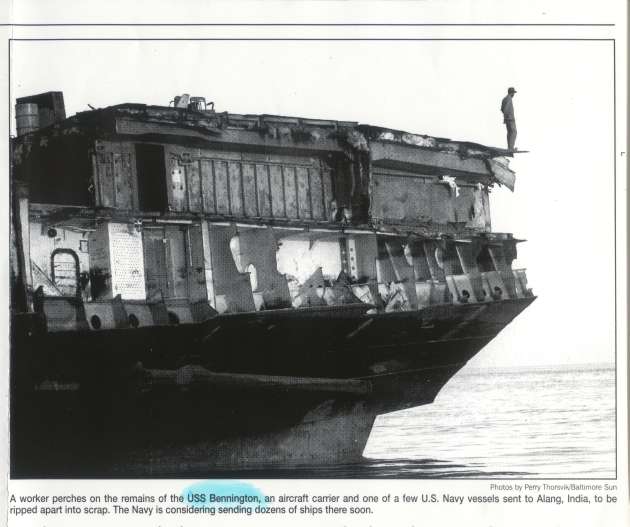 RETURN TO:



INTRODUCTION