USS BENNINGTON

---
PHOTO GALLERY
---
JOEY TATA 1955-6
Beverly Hills 90210?
---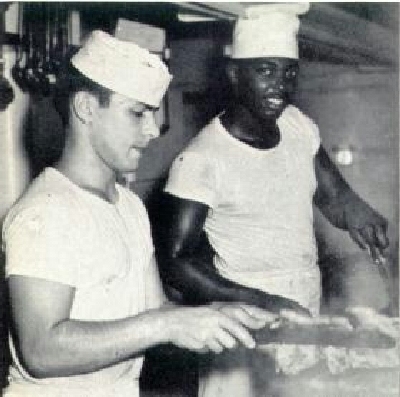 Hey, anyone out there watch Beverly Hills 90210?

I think we may have a Bennington sailor on there,

Read this e mail from Joe Franson ( jfranson@wnec.edu )



----- Original Message -----
From: Dr. Joseph P. Franson
To: BILL COPELAND
Sent: Thursday, December 16, 1999 7:10 PM
Subject: HELP



Bill:
My "watch" on CVA-20 was from Nov. 1954 to July 1958. In 1955-6 we were transferrd from the 6th to the 7th fleet and made a WESPAC cruise. One of the cook strikers then was a guy named JOEY TATA (see attachment forground). He was always involved in ships plays, musicals, etc. He was very funny on and off stage. A very likeable guy.

The TV series "Beverly Hills 90210" has an actor who is billed as JOE E. TATA. He looks like the right age. I think they they might be the same persons. The name TATA is not that common, and the JOEY vs. JOE E. is too similar to be coincidental.

Would you send this email out to our members to see if my suspicions are grounded in fact. Thanks.

Joe


---
From: "Bill Copeland"

Subject: Bennington Sailor Steals the Batmobile?
Date: Fri, 17 Dec 1999 14:59:24 -0500
From: "Bill Copeland"
To: Everyone


Oh oh, it looks like a Bennington Sailor might have stolen the Batmobile.
(Among other things!)

I think Joe Franson ( Jfranson@wnec.edu ) is on to something, as you remember, I am sure, Joe Tata was a shipmate on CVA 20 and Joe Franson believes there may be a connection between him and the actor on Beverly Hills 90210.

Joe F is doing more research on this,

Meanwhile here is a little info I picked up on the actor Joe Tata:

------------------------------------------------------

A man with a story for every occasion and a smile that can light the room, Joe E. Tata, who portrays the amiable 'Nat' on the hit series "Beverly Hills 90210," is really just a kid at heart. As 'Nat,' Joe E. (pronounced 'Joey') is a father figure both on and off the screen. "I give the younger members of the cast advice whenever I can, but when I do, I talk to them like friends, not like kids." Very much like his television character, Joe E. is known by those around him as a down-to-earth, fun loving, and witty "regular" guy. At the age of 10, Joe E. realized that acting was something that came naturally to him - - "straight from his heart." With his entertainment roots firmly planted by his father who was a Vaudeville star, Joe E. set off to establish himself as an actor in his own right and has not stopped acting since. Joe E. has "kept his mind on track and his eye on the ball," he says with playful laughter and his outgoing personality and hard work ethic have left behind quite a successful acting trail.

Joe E. has had a very rich career including roles in such feature films as Woody Allen's "Everything You Wanted To Know About Sex," Burt Unger's "Sisters," and Ralph Nelson's "Fate of the Hunter." Although Joe E. enjoys doing film, the small screen is where you are more likely to find him. Joe E. made his television debut in the legendary television anthology, "Playhouse 90" and continued on to star in a variety of different roles. He has appeared on such prominent shows as "The Red Skeleton Show," "Gomer Pyle, U.S.M.C.," and "Batman," where he successfully carried out every villain's dream stealing the Batmobile. Joe E. also starred in the "Outer Limits," 'No Time For Sergeants," and "O'Hara" with the late David Jansen. Perhaps his most memorable continuing role prior to "Beverly Hills, 90210" was that of 'Soily,' the bail bondsman on "The Rockford Files." Joe E. was also a favorite of disaster-film producer Irwin Allen ("Voyage to the Bottom of the Sea," "Lost in Space") and Quinn Martin ("F.B.I.," "Streets of San Francisco"), Joe E.'s credits, coupled with his current work, establish him as a hard working, television and film star. He is an actor who understands Hollywood and has been working consistently since he started in the business. Joe E. attributes his success to his positive attitude. "If someone says you can't do something, it usually means that they can't," Joey explains. "This is why I choose not to place limits on myself both personally and professionally." Whether he's flipping burgers in the Peach Pit or cooking up linguine in his hilltop home, Joe E. Tata will always greet you with a warm, embracing smile.

From: "Bill Copeland"



---

---------------------------------------------------------------------------
BENNINGTON Information Contact Form
Subject:
Joey Tata, a cook and Joe E Tata, actor
From:
parkcon@sbcglobal.net ()
Date:
Sat, 28 Jan 2006 13:27:49 -0600
To:
info@uss-bennington.org

Below is the result of your
BENNINGTON Information Contact Form

It was submitted by: (parkcon@sbcglobal.net) on Saturday, January 28, 2006 at 13:27:49
---------------------------------------------------------------------------

email: parkcon@sbcglobal.net

mail_subject: BENNINGTON Information Contact Form

name: W.D. Parker (Bill)

website: no

web_url: http://

how_heard: Search Engine

comments:
Some time back there was a question Re Joey Tata, a cook and Joe E Tata, actor, during "55-"56 .
Same guy.
He and I were friends during that period.
I left to go back to Stanford and lost track of him until 1980, when I ranm into him in a resturant in Hollywood.
He still lives somewhere in the L.A. area.
That was an interesting write-up done by Copeland

W.D. Parker (Bill)

RETURN TO:



INTRODUCTION