USS BENNINGTON

---
PHOTO GALLERY
---
VF-21
FJ3'S FLIGHT QUARTERS
---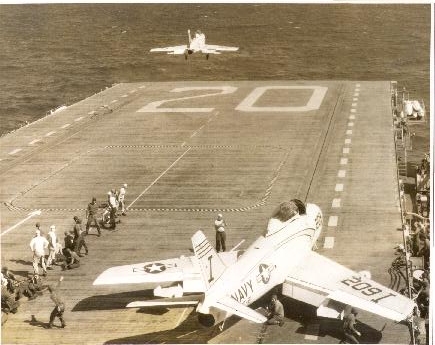 VF-21
FJ3'S FLIGHT QUARTERS
ATG-181 embarked, Tail code I
1956 Oct 3 - 1957 May 23

Sent By:
James Brusa
1955-1957

FJ3'S IN FLIGHT
---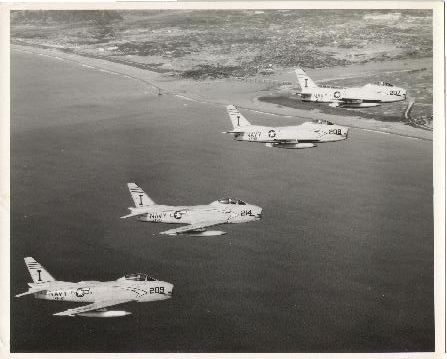 FJ3'S In Flight
ATG-181 embarked, Tail code I
1956 Oct 3 - 1957 May 23

Sent By:
James Brusa
1955-1957

FJ3 ON DECK
---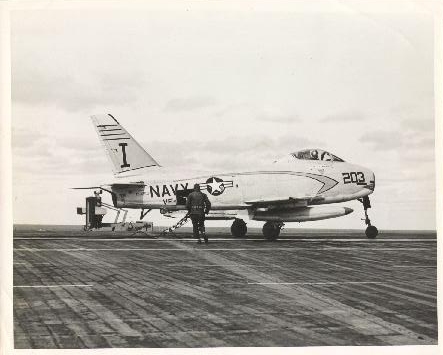 FJ3 ON DECK
ATG-181 embarked, Tail code I
1956 Oct 3 - 1957 May 23

Sent By:
James Brusa PHG2 (Photographer's mate)
1955-1957
CVA-20

FJ3 CRASH
---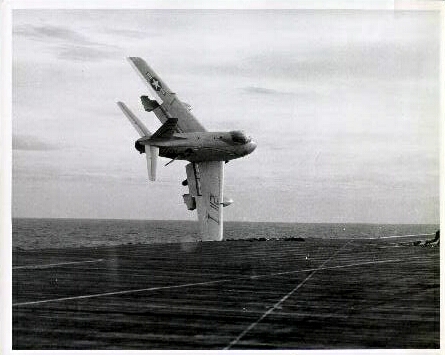 FJ3 Crash
ATG-181 embarked, Tail code I
1956 Oct 3 - 1957 May 23

Concerning the crash picture, I was on the flight deck with my trusty K20 when the FJ3 missed the wires and went off the canted deck. I also have two or three more of the same crash that I took as the plane landed on its canopy and blew up. I really don't want to show the other photos because they are gruesome and meaningless. Sufice to say the plane landed in the water and disapperared. As I recall, a piece of debris hit me in the leg, with no damage. It was so overwhelming that I didn't notice it until some time later. One other person was hit with a little more force and I don't know what happened to him. Thought the photo needed some explanation beyond the awesome crash.

Sent By:
James Brusa PHG2 (Photographer's mate)
1955-1957
CVA-20

---


Subject:
Bennington web site
From:
"Charles Bishop" [ckbishop@kmtel.com]
Date:
Fri, 31 Dec 2004 15:30:58 -0600
To:
[bennington@uss-bennington.org]

In reviewing the current web site, I saw the picture of the Fj3 that was shooting touch and go's early in the morning and catching a wing in the catwalk and coming down on the numbers on the flight deck. I had just come up for a breath of fresh air and was standing in front of the island when the jet crashed and blew up and went over the bow into the ocean. Like Jim Brusa I felt the pieces of plexi'glass come back and hit me,( no damage to me).
I was a member of the airgroup VC33 a detachment of 4 AD5N's fromAtlantic City, NJ. I had a number of assignments while on board from 1956 until spring of 1957. One of which was being an aircrewman aborad the AD5N's. It was quite an experience to fly off and on a carrier, I had nearly a hundred launches and landings. One of our cruise pilots was Ltjg Al Surratt and later in life we resumed our relationship as pilot and aircrewman in 56 & 57 as neighbors in the 80"s 90's and on into 2004 when Al passed away. We had many interesting stories and experiences that we shared over coffee.

Charles Bishop AMS2
Kasson, Mn.


RETURN TO:



INTRODUCTION