USS BENNINGTON

---
PHOTO GALLERY
---
USS BENNINGTON CV-20 - 1945
Aerial Photo - June 1945
---
CLICK THE PICTURE FOR A CLOSE UP
CLOSE THE CLOSE UP WINDOW TO RETURN HERE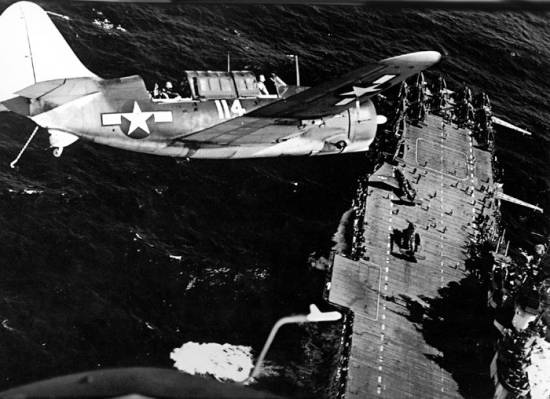 CLICK THE PICTURE FOR A CLOSE UP
CLOSE THE CLOSE UP WINDOW TO RETURN HERE
Curtiss SB2C-3 Helldivers bank over USS Hornet (CV-12) before landing, following strikes on Japanese shipping in the China Sea, circa mid-January 1945.
Photographed by Lt. Cmdr. Charles, USNR.
Official U.S. Navy photograph, now in the collection of the National Archives. [80-G-469319]

This is the same plane used by CVG-82 attached to Bennington 1945 June 17
---
Subject: Picture of the week
Date: Sun, 24 Jun 2001 10:40:19 -0400
From: "Bill Copeland" -BCopeland@uss-bennington.org-
To:USS Bennington


56 years ago June 1945 ...............

* Bennington's first Commanding Officer, Capt. Sykes was transferred back to the states and Air Group 82 was detached from the Bennington and also returned to the United States, leaving behind quite an accomplishment, in four and a half months, they :

Shot down 167 Japanese planes destroyed 220 on the ground and damaged an additional 175

Unfortunately, 25% of the squadron ( 40 pilots and 13 aircrewmen ) were lost, or missing in action.

* This information is from the video "Bennington Goes to War "
Check the MERCHANDISE Page for more information

From: "Bill Copeland"


RETURN TO:



INTRODUCTION