USS BENNINGTON

---
PHOTO GALLERY
---
USS BENNINGTON
SALUTE TO
USS ARIZONA
1958
---
CLICK THE PICTURE FOR A CLOSE UP
CLOSE THE CLOSE UP WINDOW TO RETURN HERE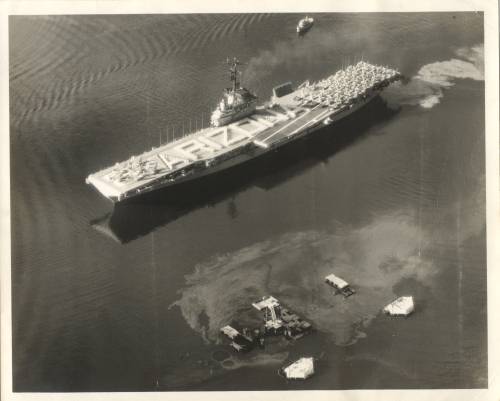 CLICK THE PICTURE FOR A CLOSE UP
CLOSE THE CLOSE UP WINDOW TO RETURN HERE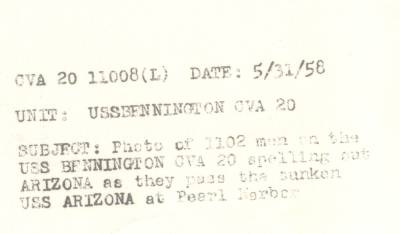 USS Bennington arranged 1102 of her crew to spell out A R I Z O N A on her flight deck while sailing by the old Arizona's hulk.
(The 1102 number was long accepted to be the number of dead within Arizona's hull; more recent calculations have reduced the figure.)

Thanks to George Briggs for sending this picture.
Note that this picture was taken from the same plane and just before the two that follow.
---
CLICK THE PICTURE FOR A CLOSE UP
CLOSE THE CLOSE UP WINDOW TO RETURN HERE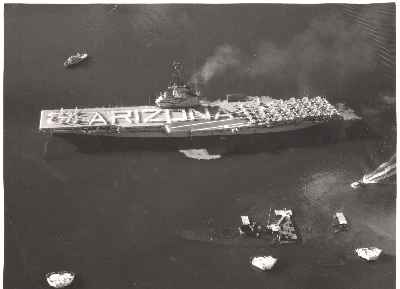 CLICK THE PICTURE FOR A CLOSE UP
CLOSE THE CLOSE UP WINDOW TO RETURN HERE
Subject:
Photo 1958. USS Arizonia/Bennington
From:
jgraham@ruraltel.net (John L. Graham)
Date:
Wed, 28 Feb 2001 15:55:39 -0800
To:
"Bennington" -bennington@uss-bennington.org-

This was taken Memorial Day 1958. I was in the right vertical leg of the "O". I wish the quality were better.

Jack Graham "B" Div
Norton KS 67654
jgraham@ruraltel.net

---
From: Bill Copeland [Bill.Copeland@verizon.net]
Sent: Sunday, November 25, 2001 7:06 PM
To: Undisclosed-Recipient:@out003pub.verizon.net;
Subject: Picture of the week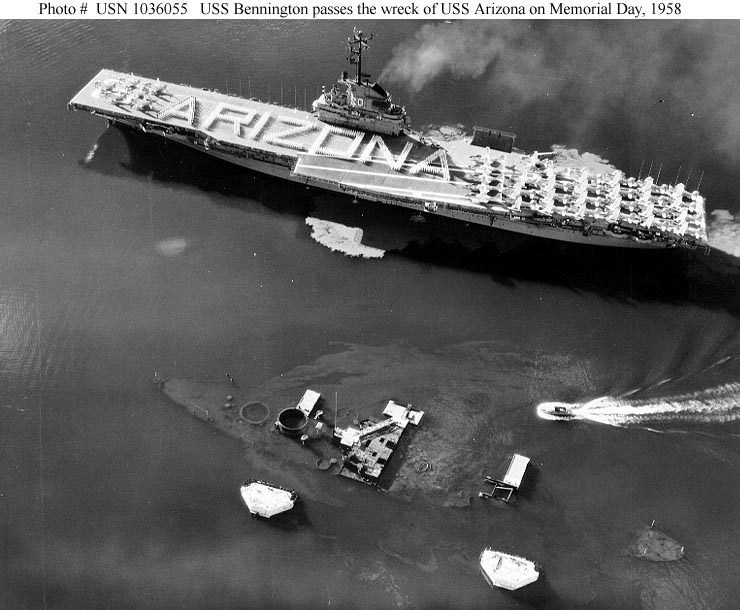 The 60th Anniversary of Pearl Harbor Attack is rapidly approaching,
and I came across this dramatic picture of Bennington sailing over the
battleship Arizona in 1958, before the Memorial was built. ,

Notice the oil slick from the Arizona.

As warships entered or sailed from Pearl, they often "rendered honors" as they passed Arizona's hulk
-- their crews standing at the rail at rigid attention and saluting their fallen comrades.
A sentimental U.S. Navy would not let her memory fade.


Notice that the top two photos were taken JUST before the bottom one from the same plane.


Lonnie Whittaker
Webmaster - USS-BENNINGTON.ORG
---
HERE IS A RARE PICTURE OF
THE USS ARIZONA
CLICK THE PICTURE FOR A CLOSE UP
CLOSE THE CLOSE UP WINDOW TO RETURN HERE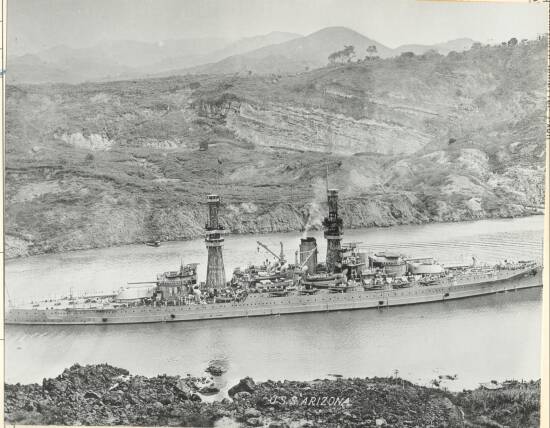 CLICK THE PICTURE FOR A CLOSE UP
CLOSE THE CLOSE UP WINDOW TO RETURN HERE
The BIG PICTURE is a little slow to load, but has very high quality detail


---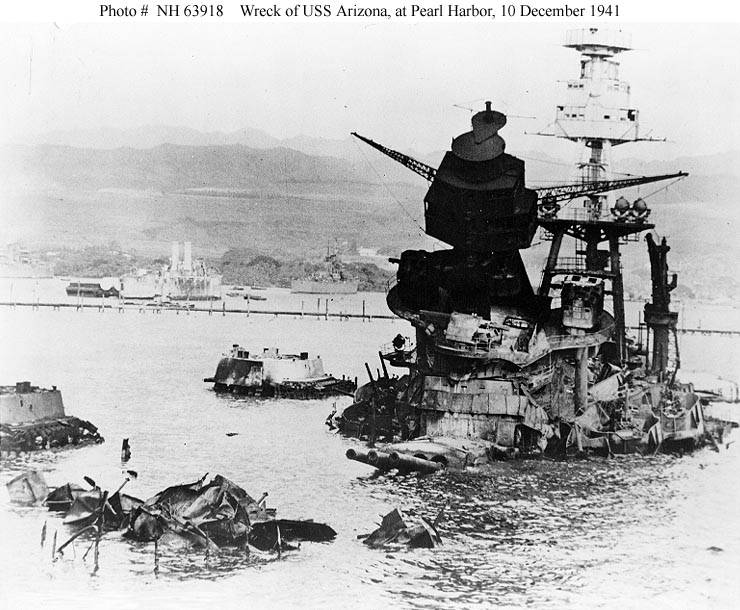 ---
RETURN TO:



INTRODUCTION