USS BENNINGTON

---
SPECIAL EVENTS
---
BENNINGTON, VERMONT - 2002
Page 6

---
GO TO:
BENNINGTON, VERMONT - 2002 - Page 5
SPECIAL EVENTS
BENNINGTON, VERMONT - 2002 - Page 7




Bobby's truck had a very special decoration.

A Bennington 76 flag was attached to the antenna.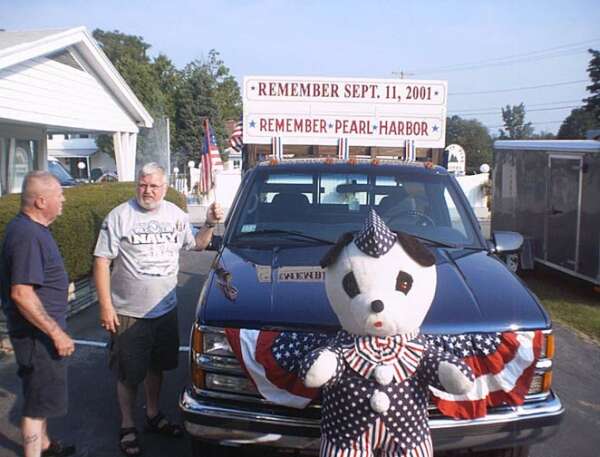 Dan's flag on Bobby Quinn's truck
When Dan Vernon passed away last Feb, I went to Louisiana to visit with Shirley and visit Dan's grave.
I left a Bennington 76 flag on Dan's grave.

Shirley recently e mailed me that the Bennington flag on Dan's grave had
blown away and she asked if I could get another one.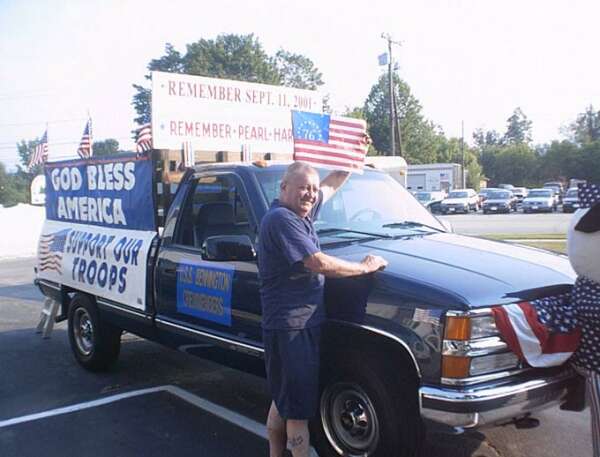 Bobby Quin displaying Dan's flag
I decided to get one, and fly it in the parade with us, then send it "to Dan" in Louisiana the next day.


GO TO:
BENNINGTON, VERMONT - 2002 - Page 5
SPECIAL EVENTS
BENNINGTON, VERMONT - 2002 - Page 7


---
Site Created By: