USS BENNINGTON

---
USS WASP VISITS
Bill Copeland
---
USS WASP
and
Bill Copeland
and
Bobby Quinn
---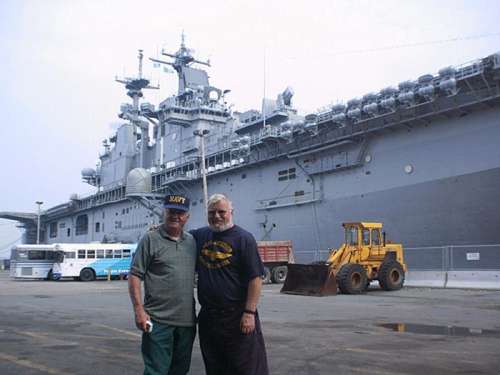 Well, Sat. June 30, they commissioned LHD 7, USS Iwo Jima, that should have been USS Bennington, LHD 7, I really believe we were close to getting it, after all the work we did, in 1996, but at the last minute, the Commandant of the Marine Corps, Gen. Krulak stepped in, and .................... asked SecNav a favor.

Oh well.

Today, though the original LHD 1, USS Wasp was in Boston, and, thanks to some help from Jon Easley and some other contacts Bobby Quinn and I got a VIP tour, spent the day aboard her.

What a ship ! sort of a "Mini" aircraft carrier, 46 helicopters, 5 Harriers and 3 air cushion boats. They have quite a complement aboard, 1900 Marines, 1,000 sailors and 500 women.

We got there early, about 9:30, got waved through the gate ( they were expecting us, had our names, etc. ) and parked right on the pier alongside the ship. Then our hostess, a JO 1st Class named Sherri came out and took us aboard. We toured the ship from stem to stern, saw everything from the operating room, the morgue, the bridge, and everything in between.




---
RETURN TO:

USS WASP VISITS BILL COPELAND INTRODUCTION