COPELAND DOES NASHVILLE


---
GO TO:
COPELAND DOES NASHVILLE - Page 3
SPECIAL EVENTS
COPELAND DOES NASHVILLE - Page 5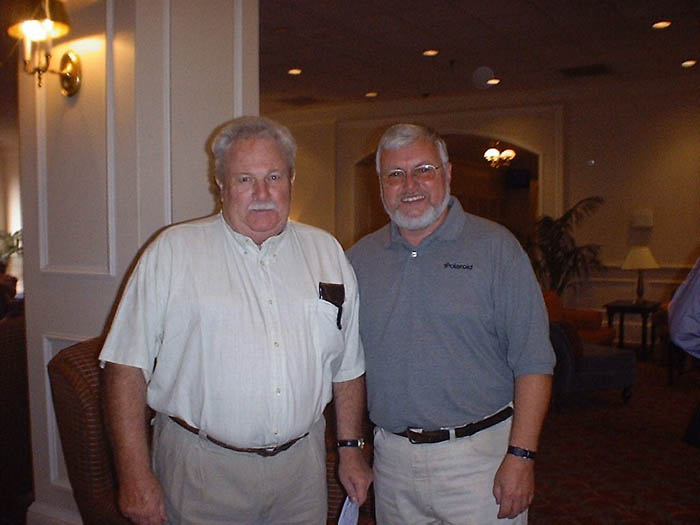 The 12th Annual Reunion, in Nashville was another outstanding success!

This year's reunion was hosted by Biff and Joanne Scarborough ( CVA 20 ) at the Regal Maxwell House Hotel.

Yep, that's right....... the Maxwell House, famous for it's coffee that Theodore Roosevelt said was "Good to the last drop."

This was a classy hotel, but also a fun hotel, the whole time we were there, the front desk clerks were dressed up in Sailor shirts and even white hats!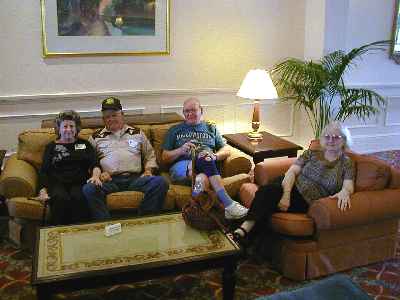 While we were there, a group of Navy CB's were also there, and they were celebrating their 39th Annual reunion. These guys were WW 2 Sea Bees, and were disbanded in 1946, so their group is getting smaller and smaller, but their spirit keeps getting bigger. We stopped by their hospitality suite and listened to their stories, and they came to ours. Nice group of guys.

This year, we again had over 300 people (shipmates and wives) show up and, for the 2nd year in a row, had 21 First timers.

Biff and Joanne planned several things for us to do, from a bus tour of the city, to shows at night.

Dotty and I, along with about 20 others went to a "Patsy Cline" Show on Friday night. Excellent show, and it so happened that night, Sept. 8 would have been Patsy Cline's 60th Birthday. Her husband, Charlie Dick was there and posed for pictures and talked to everyone. Wait until you see the picture of me and Patsy Cline. Oh, well, yeah, me and Patsy and Lonnie Whittaker, at the last minute, he jumped in the picture.

Also, on Friday night, was, naturally .................... The Grand Ole Opry, about 100 people went to that show, and you WILL be hearing more about that, along with some pictures. To give you a little preview, let's just say, some shipmates ended up backstage with Bill Anderson, Bill Monroe, and the Oakridge boys!! (Speaking of backstage, earlier in the day, when noone was around, 2 shipmates did manage to get in the back door and go on had their picture taken on stage in front of the WSM microphone. I won't tell you it was Bobby Quinn and me, but you will see that picture in the next few days.

On Saturday morning, at our business meeting Rich Stange told us what he could about next year's reunion, in Albuquerque, New Mexico. It will be towards the end of September, all the details are being finalized now, and as soon as Rich gives us the word, we will put it right on the web site. Bob and Mary Holmes got up and gave a great slide show presentation on San Diego, and, possibly the USS Midway. That was a real tough act to follow, so everyone present took a vote, and the 2002 Reunion will be in San Diego, California.

During the meeting, Lonnie Whittaker, our webmaster gave a presentation about the web site, complete with a lap top hooked up to a 27" television, and showed many shipmates some highlights of the web sites. It was very encouraging, afterwards when guys came up to me and asked questions about finding the web site. These were guys who had never seen it before. Thanks, in part to Lonnie's presentation, the Association voted us a budget for the web site, so keep an eye open, you will be seeing some new and improved pages!

Biff and Joanne did a great job of hosting the reunion, and you will be seeing more pictures and stories about them, but I want to add a picture here of the guy who started this whole thing, back in 1989. With out Rupert Marshall, we would all be sitting around wondering, "whatever happened to my old ship"

Thank you, Rupert.

(Rupert is on the left, I am on the right. When I first met Rupert in 1989, in Pittsburgh, neither one of us had gray hair...................................)



GO TO:
COPELAND DOES NASHVILLE - Page 3
SPECIAL EVENTS
COPELAND DOES NASHVILLE - Page 5


---
Site Created By: