COPELAND DOES NASHVILLE


---
GO TO:
COPELAND DOES NASHVILLE - Page 12
SPECIAL EVENTS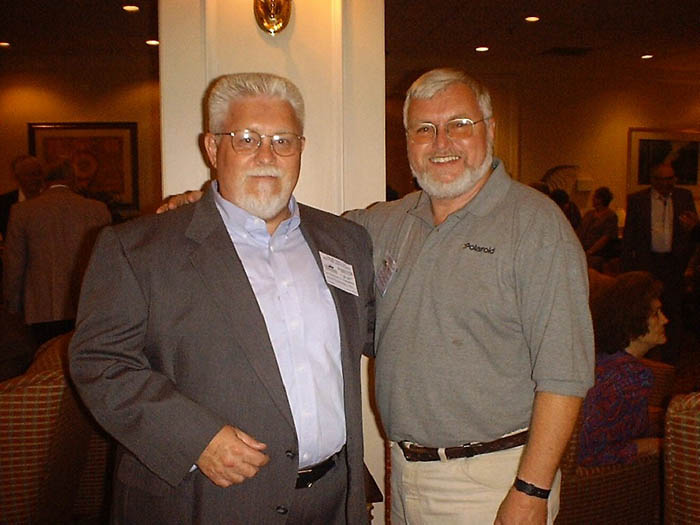 Boy, times sure have changed ..................

When I first went South of the Border (1963 to NAS Jacksonville, Florida ) that place was just loaded with "Good ole boys" they drove around in pickups, had gun racks in the back window. Everything a young Yankee expected of a red neck.

Now .................. a few years pass, I have been e mailing Archie Henderson for a few years, even talked to him on the phone, he sure sounds like one of them "rednecks" When Archie said he was coming to his first reunion, in Nashville, I was really looking forward to seeing him. I asked him, you coming in your pick up truck? He said, "pickup, no I don't have a pick up, we'll probably come in my wife's Volkswagen bug"

VW Bug? I thought to myself, he talks funny, he must have meant a VW bus, I guess rednecks drive around in those things, too.

Well, Archie and Virginia showed up in Nashville, and I must admit, I really did enjoy seeing them, (well, when he wasn't telling me to s l o w down, I talk too fast. and when he wasn't asking me to say "Park my car" ) He really is a "good ole boy" at heart, I guess. But he sure doesn't look like a red neck. (instead of a rifle rack in his VW, he has a holder for a Palm Pilot)

Well, Archie is trying to convince me to stop off in Mississippi and see when I drive south to Florida in Feb. ( I didn't think Miss. was on the way, but he says "oh yeah, it's right on the way")

He gave me directions, that included his cell phone #, his beeper #, etc. Boy, they just don't make rednecks like they used to.

Bill

PS Oh, by the way, Archie, I never did get my final month's flight deck pay. (Archie was a disbursing clerk (paymaster) on the ship.
GO TO:
COPELAND DOES NASHVILLE - Page 12
SPECIAL EVENTS


---
Site Created By: