USS BENNINGTON

---
CREW GALLERY
---
Joe Pires - November 1965
---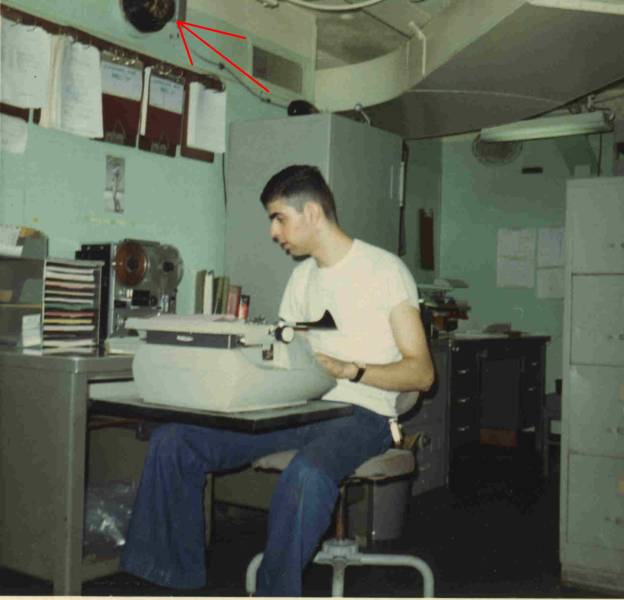 Joe Pires - November 1965
1965 - 1969
S-1 Div

That picture was taken in November 1965 in the S-1 Division (SUPPLY DEPT.) Office.
The office was for S-1, S-2 and S-3.
As you can see from the photo - typing came at an early time for me.
Thus, my enjoyment of re-doing "hard-to-read articles about BENNINGTON's past".


Just a note here.
Joe has always tried to be prompt and timely in all of his efforts.
Note in the upper left corner of the above photo where the red arrow points to the clock.
That is an official U.S. NAVY clock. It says so at the bottom.
That clock told Joe when it was time to go on LIBERTY.
He still knows when LIBERTY CALL is in 2011 as told on his official USS Bennington, U.S. NAVY clock.
Looks like he is late. Liberty Call was at 1600 hours.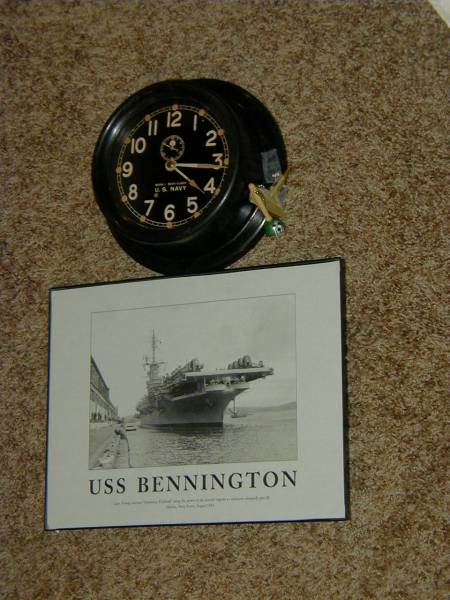 The date on the clock is 1942.
It most likely was aboard Bennington at the launch of the ship February 26, 1944
(Clock was donated by
Richard A. Knight
former AC-2,
OC Division,
USS Bennington,
1966-1967)

Hi Lonnie...

I can't tell you to much about the clock except that it came from some kind of a chart room way up in the island.
(Or maybe the supply department office.)
I found it in a drawer up there covered with dust and in the condition that it is in now (broken hinge).
The room had not been used for a long time.
I brought it down to my work spaces and cleaned it up.
When I left the ship with my discharge some LCDR gave it to me, I don't remember him either, it's been 43 years.
None of the stuff I sent needs to be returned to me, so when you are finished with it you can send it to Joe Pires.
R.A.Knight AC-2
OC Division